Sora Rettifiche Srl
SORA, the historical company that has been based in Faenza (RA) since 1962, started a new chapter in 2019 by linking the historical importance of its business made up of specialised technicians, specific machinery and consolidated customers, with the new entrepreneurial management.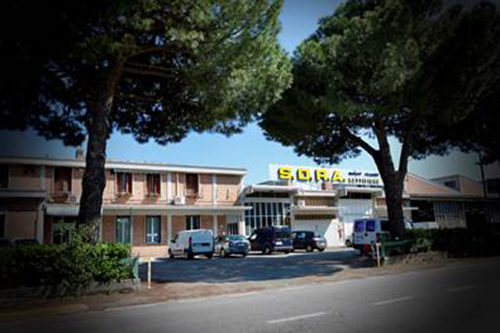 We can perform any type of specific work on engines and their components by using the latest technologies available in the field of grinding/overhaul in order to guarantee high quality standards. The activities take place in 6 departments (Grinding / Heads / Assembly / Welding / Testing / Mass Production) covering 3,000 m
2
Our offer includes various types of solutions to cater for our customers' needs: from the "engine rota" service, which makes it possible to immediately pick up a reconditioned engine in exchange for the one to be reconditioned, or an overhaul of your engine or, in most cases, supply of a new one.
The Shipping Department partners with the main national couriers for express shipments in 24 hours for most national orders and 72/96 hours for the main European locations.
SORA RETTIFICHE SRL is a solid industrial enterprise that looks to the future without overlooking the corporate values that have accompanied it over its fifty years of history while focusing at the same time on progress in terms of the new entrepreneurial management.
Engine reconditioning is recommended when various mechanical parts of the engine start causing problems. The engine overhaul must be carried out by expert technicians that work adequately on each of its components.

The Benefits of Engine Regeneration!

Guaranteed quality
Reconditioned engines guarantee reliability, quality and longevity that can be compared with a new item and are covered by the same warranty.

Savings
In addition to being cost effective, a reconditioned engine actually requires use of fewer new raw materials and it is estimated that 3 reconditioned and fully functional parts can be obtained from 4 damaged engine parts.

Respect for the environment
A reconditioned engine also enables up to 80% savings on the energy required to produce a new one and contributes to the reduction in atmospheric pollution; replacing a worn engine with a reconditioned one reduces its polluting emissions.

Why should you choose Sora Rettifiche to regenerate your engine?

By choosing Sora Rettifiche, your engine will be reconditioned by following a qualitatively high process, which guarantees an exceptional end result.

The used engine is completely dismantled and the parts to be reconditioned are treated in cleaning vats. They are then processed in specialised departments: the essential parts of the engine, such as crankcase, engine shaft, cylinder head, and cam shaft are ground in compliance with the manufacturer's values and tolerances.

All the parts subject to wear are replaced with original new parts or OEM parts. The machining operations are carried out in compliance with the instructions provided by the manufacturers. Lastly, on completing the machining operations, the engine is assembled and tested.

Commercial vehicle engines

The overhaul or supply of reconditioned engines for commercial vehicles is one of the services that SORA RETTIFICHE specialises in.

In addition to being used for transporting goods, they are also fundamental for work activities. Therefore, it is more advantageous to overhaul the engines of commercial vehicles rather than purchase a new vehicle since it is a fast and cheaper procedure.

In fact, an overhaul saves both time and money; all engines undergo testing in a test room to assess their proper operation. After successful testing, the engine is prepared for delivery to the customer.

Most of the engines we overhaul are Fiat and Iveco.
For example, the Fiat Ducato/Iveco Daily 2.3mjt range marked F1AE, 3.0mjt marked F1CE, can be supplied in semi-complete or complete versions.

Engine kit with cylinderhead, oil sump and valve cover (all accessories are missing, such as manifolds, turbocharger, distribution, injection, etc ...)

REBUILT LONG BLOCK ENGINE Fiat/Iveco F1AE

Complete with injection, distribution, manifolds, turbocharger, water pump

COMPLETE REBUILD ENGINE Fiat/Iveco F1CE

Complete with injection, distribution, manifolds, turbocharger, water pump

COMPLETE REBUILD ENGINE Iveco F4AE

If you need to replace an engine that can no longer be used due to wear or other reasons, the supply service of engines for commercial vehicles enables you to obtain an engine with the same performance as a new one and, in addition, achieve significant cost savings.

Furthermore, purchasing a reconditioned engine also helps the environment, thereby saving approximately 80% of the energy required to produce a new engine and enabling a significant reduction in emissions compared to a used one.

RELIABILITY and LONGEVITY of the reconditioned product
The professionalism of our technicians guarantees a high-quality service that provides you with engines having the same functional features as new ones.

PROFESSIONALISM of highly qualified staff
The skills of our team guarantee a high level of professionalism. The company is also ISO 9001:2015 certified to further emphasise the quality of its business processes, products and provision of services with particular attention to customer satisfaction.

Over 50 years of EXPERIENCE in engine overhauling
SORA's history dates back to the '60s, evolving continuously over time until today, when the solid industrial organisation focused on progress thanks to a new entrepreneurial management.

Truck engines

Engine operation is characterised by a wide range of internal components and for its high complexity. For this reason, reconditioning or repairs are extremely demanding processes that are best left to specialists in the sector.

It is possible to keep high standards, even if you have an "old" vehicle. If your engine has clocked up many kilometres, when it comes to maintenance or repair, there is no need to compromise on quality parts in order to contain the costs.

An engine overhaul or repair is carried out with special machinery that guarantees the same quality and reliability as that of a new engine but at a lower price.

Most of the engines we overhaul are Mercedes, Man and Iveco.

Specialised technicians with years of experience, which is essential for reconditioning in a workmanlike manner
Reliability of the spare parts used. We rely on the best manufacturers and dealers
Regeneration reduces the environmental impact since it recycles existing parts instead of using new ones.
The company provides a one-year warranty on all its reconditioned products.

Engines for the agricultural industry

Sora Rettifiche can recondition your engine and restore its condition to a zero-hour engine.

We will dismantle your engine completely and overhaul it by complying with the Manufacturer's standards, using new original spares or OEM parts to replace the worn ones. The engine will be tested on the test bench and ready to be installed.

It is cost-effective as opposed to purchasing a new engine or vehicle
Quick ad hoc quote for the problem found on your engine
Use of ORIGINAL spare parts or AFTERMARKET parts of similar quality
Engine collection and delivery
Professionals in the sector are at your disposal both pre- and after-sale
12-month warranty

Vintage car engines

The internal combustion engine consists of several components. In particular, those that form the heart of the engine are subject to wear.

Our highly specialised operators can recondition the various components. For example, the crankcase, cylinder head, valves and other components are subjected to a series of reconditioning operations and checks.

The grinding operations make it possible to obtain a virtually new engine.

Specialised technicians with years of experience, which is essential for reconditioning in a workmanlike manner
Reliability of the spare parts used. We rely on the best spare parts dealers for vintage cars
12-month warranty

COMPONENT GRINDING AND OVERHAUL

Sora Rettifiche is able to perform any type of specific work on engines and components.

Engine testing on 4 test benches, also electronically controlled, with a certificate issued (max peak power 800hp/900hp)

Electronic balancing with fixed machine (with 4 supports; capacity from 100 g to 450 kg) or with a portable machine, both with high precision

Motor shaft grinding (max. length 3,000 mm)

Industrial grinding Gear and differential overhaul

Monobloc engine overhaul

Injection pump overhaul

Turbocharger overhaul

Camshaft reconstruction

Head reconstruction

Cast iron crankcase repair

Welding overlays on cast iron, aluminium and steel (our specialised operators are able to fully reconstruct discontinued parts, making it possible to restore vintage engines – We can bore the main bearing housings on the crankshafts)

Any other mechanical machining

Engine testing on 4 test benches, also electronically managed (max power 800 hp / 900 hp peak)

Cylinder liners honing after grinding them

Valve seat milling with CNC machines to restore the optimal seal of the valves on seats

Crankshaft grinding to restore the right tolerance between crankshaft collars and relative bushings

The boring allows to restore the bench housings in case of deformation to the perfect size and perfect alignment

BORING OF THE MAIN BEARING HOUSING

The camshaft adjustment is used to restore the correct/original profile of each cam in case of wear

Six internal departments for one service

Sora Rettifiche production is divided into six departments: Grinding, Heads, Engine Assembly, Welding-Rebuilding by means of overlays, Testing, Mass production; with  specialised operators  and  high-tech machines  for precision machining.

Engine Services: from rota to reconditioning

Sora Rettifiche offers all possible solutions, from the engine rota service, which enables prompt delivery of an engine already reconditioned in exchange for the one to be overhauled, with a clear reduction in vehicle downtime, to direct reconditioning  of the customer's engine to  supply of the new engine.

Technology

Sora Rettifiche uses the most modern technologies available in the field of grinding/reconditioning, which guarantee the highest quality level with infinitesimal margins of error.

– Numerical control machine specific for grinding Newen valve seats
– Static and mobile electronic balancing machine
– 4 test benches, also electronically controlled

RECONDITIONED OR NEW ENGINES

We work in the production and marketing of reconditioned and new engines and components of all brands for: cars, agricultural machinery, trucks, buses, earth moving machines, and industrial, cogeneration, rail, and marine machinery.

We offer an engine rota service that involves immediate delivery of a reconditioned engine in exchange for the used one, with an obvious reduction in the vehicle's downtime.

What is a reconditioned engine?
It is a used engine that undergoes a "regeneration" process by disassembling all its parts. Reconditioning an engine means giving it a new lease of life.

COMPETITIVE PRICES

QUALITY EQUAL TO THE ORIGINAL

REDUCTION IN SUPPLY TIMES

12-MONTH WARRANTY

RECONDITIONED ENGINE OUTFITTING

KIT/ Short block: composed cylinder block, crankshaft, connecting rods, bushings, all assembled (without heads, sump, pump and distribution). Petrol and gasoline version

Engine kit with complete head, oil sump and tappet cover (all accessories are missing, such as manifolds, turbochargers, timing, injections, etc.) The petrol version is complete with distribution

Complete with injections, distribution, manifolds, turbocharges, water pump and air compressor

Engine Stock

Assortment of reconditioned engines in stock, immediately available

Prompt delivery in Italy and abroad
DO YOU WANT TO RECONDITION YOUR ENGINE?
Do not hesitate to contact us. Fill in the form to request further information and we will give you all the necessary instructions for the procedure!
Give us your e-mail to stay in touch.
You will receive news and updates!
Our sales representatives are at your disposal to answer your questions quickly.
Do you need information or clarifications?
Contact us on 0546.628911 from Monday to Friday from 8 am to 12.30 pm and from 2 pm to 6.30 pm, or fill in the form below with your details and your request.
Our technicians will get back to you as soon as possible!
COME AND SEE US
---
Via Boaria, 52
48018 – Faenza (RA) – ITALY
Opening hours
Monday/Friday  8 am – 12.30 pm / 2 pm – 6.30 pm
Saturday​​ CLOSED